Select Your Model Year...
Choose the appropriate model year for the Citroen C2 you are trying to find the oil type & capacity for from the list below.
Citroen C2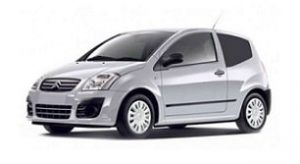 You can find 12 different trims for the Citroen C2 and their corresponding recommended oil type.
The years available stretch from 2003 through to 2010 and to view the oil type and capacity you just click to expand.
Replacing the popular but aging Saxo in 2003, the C2 was less sporty looking than its predecessor.
being a similar size to its predecessor and with similar capabilities, both vehicles were classed as superminis and the C2 went on to be manufactured at the Aulnay plant in Paris, France.
Running for just 6 years, the C2 was ultimately replaced by the DS3 in 2010. Designed by Donato Coco*, the C2 suffered from its lack of marketing. Whereas its sister cars (C1 & C3) had well-structured advertising campaigns, the C2 was far less popular due to the market's lack of awareness.
Despite its reception, the car itself was sound, winning Best European hatchback upon its year of release. Several trim variations were available:
LX = Featuring basic plastic bumpers and the lower cost end of the range
L = mid level with a CD player but no fog lamps
SX = The luxury variant, with all other features found on the previous trim levels but with the addition of air conditioning.
In addition to the above, Citroen carried over the Trim level names from its predecessor the Saxo including the Furio, VTR and VTS (all sportier versions).
A limited edition version joined the lineup, the GT which came with a factory-fitted body kit with alloy wheels, only 2,500 units were produced with a certificate of authenticity for each vehicle.
2007 saw changes made to the front grille bumper, enlarging the latter, all trim levels were kept the same.
Donato Coco although known for his work for Citroen is even more famous for his recent Ferrari designs (amongst others), notable cars he has been responsible for are Mercedes W168, Ferrari 458, Ferrari California, Citroen Xsara Picasso, Citroen C3, C1 and the Citroen C4.