What Is OilType.co?
---
On this website we keep track of the oil types and capacity figures on hundreds of the most popular car models around the world.
The data is updated as often as possible using our team of volunteers who search the web and inspect hundreds of owner's manuals.
You can find the oil type to use by searching for your make/model/year using the dropdown above, the list below or using our search page.
Struggling to find the oil type for your car? Wy not fire us a message through our contact page to see if we can help.
Oil Capacities
Alongside the oil type for your model of car you may also find several capacity readings.
These readings tell you how much oil to refill your engine with after doing a full drain but can also be useful to understand how much you may need to buy when low.
Oil Viscosity Explained
---
The oil values shown on this website (and everywhere else) can be broken down to show the minimum and maximum operating temperatures.
The first number before the dash in the oil type is the lower operating temperature, this is usually where the engine sits during start up.
The second number (after the dash) indicates the temperature of the oil while it is flowing around the engine during heavy load.
The manufacturer of your automobile details the oil type to use in the manual but we also list it for many of the popular makes and models on this site.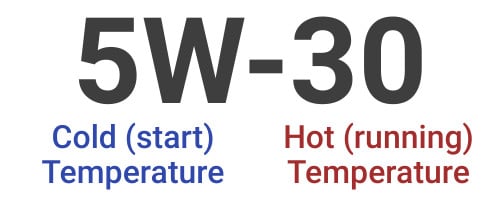 Popular Manufacturers & Models
---