Select Your Model Year...
Choose the appropriate model year for the Volkswagen CC you are trying to find the oil type & capacity for from the list below.
Volkswagen CC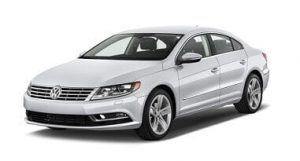 You can find 49 different trims for the Volkswagen CC and their corresponding recommended oil type.
The years available stretch from 2008 through to 2017 and to view the oil type and capacity you just click to expand.
When it was first launched back in 2008, the Volkswagen CC was actually marketed as the VW Passat CC. The idea when releasing it was to create a more athletic and dynamic design that would sacrifice a certain amount of headroom and cargo space in favor of a coupe-like design with a sweeping roof and a sportier feel overall. The company had high hopes for the model variant, expecting they'd sell about 300,000 models over 7 years.
Buyers' powertrain options for the VW CC were dependent on their market. The European version offered either a 1.8-liter or 2-liter inline-4 gasoline engine, or a 2.0L turbo diesel. A 3.6-liter VR6 model was also made available. The North American version didn't include the diesel model, but included both the 2-liter and 3.6-liter VR6 models. The Finnish and Swedish markets even gained a 1.4-liter option.
On top of these engines, the CC was also offered with VW's 4MOTION 4-wheel-drive technology for the 2.0-liter engines and above, with both manual and VW direct-shift gearbox (DSG) transmissions available. Those looking to get the most power would find it in the 3.6-liter VR6 with 4MOTION, delivering up to 295-hp and 258 lb-ft of torque.
Volkswagen maintained a clean and simple but also elegant and refined interior for the VW CC model. It included silver metallic-look finishes across the dash and center strack, and it did include a built-in infotainment screen in the center stack, too. Leather seats were available, and while some headroom made the rear of the car tighter for tall passengers, the cockpit and front-passenger seats remained roomy and comfortable.
A 2012 facelift saw a new revised exterior, as well as new features like city emergency braking, parking assist, traffic light recognition, fatigue detection system and more. While sales in the US initially exceeded VW's target of about 26,000 units a year, they quickly declined following 2012, eventually becoming the weakest-selling model in the entire range.