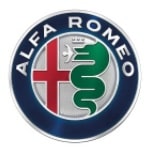 ---
Browse by Alfa Romeo Model (7 in total)
About Alfa Romeo
The Alfa Romeo car manufacturing company has its initial roots steeped in secrecy, as the initial investors attempted to stay hidden.
The company gains its name from the word Alfa, which is actually an acronym for "Anonima Lombarda Fabbrica Automobili" with the Anonima element meaning anonymous. This was a legal way to set a company up back in 1910 when Alfa Romeo was originally formed.
The company quickly jumped into motorsport, competing only a year after establishing its brand in 1911 using the first model they released, the 24HP (named after its rated power output).
Alfa Romeo hit hard times in 1921 with the government having to step in and help it, much like other industries struggling after the first world war.
When the brand started to struggle to make ends meet after the second world war they switched from luxury cars to small affordable family vehicles.
Now the company has a mixed range of models among its range but tends to edge toward the sporty and luxurious.
The popular models currently for the brand tend to be luxurious sedans like the Quadrifoglio which cater to the family that want a bit of punch and style in their daily driver.