Select Your Model Year...
Choose the appropriate model year for the Alfa Romeo 147 you are trying to find the oil type & capacity for from the list below.
Alfa Romeo 147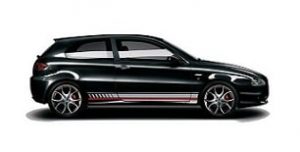 You can find 10 different trims for the Alfa Romeo 147 and their corresponding recommended oil type.
The years available stretch from 2000 through to 2010 and to view the oil type and capacity you just click to expand.
The 147 is a small family car created by the Italian car manufacturer Alfa Romeo.
Voted 'European car of the year' just a year after its release in 2000, the 147 debuted at the Turin Motor Show following the announcement that it would be replacing the Alfa Romeo 145 and 146 (both were hatchbacks).
Two petrol powertrains were available and one diesel, a 1.6-liter, 3.2-liter and 1.9-liter respectfully.
To promote a sporty aesthetic, the 147 had paddle gears installed as standard and came in just two trim levels, the Turismo and the Lusso. The 147 was the very first Alfa Romeo to offer dual-zone air conditioning.
Gaining recognition for its sleek styling, the 147 went on to win awards for design and functionality, and following its success, an updated version went on sale just 4 years after the initial release. Changes were made to the interior, front grille, headlights and rear lights.
To promote the newly styled 147, Alfa Romeo worked with Ducati to create a limited edition car called the 'Ducati Curse,' a response to the Australian superbike champion Casey Stoners Moto GP win. Alfa Romeo was the official car supplier to the Ducati racing team. The limited edition 147 'Ducati Curse' was described in write-ups as a hot hatchback and had a powerful 3.2-liter V6 engine that could produce 247 bhp. Only 5,029 units were manufactured, many of which still demand a high price today. The body was lowered and widened.
Overall the 147 received mixed reviews over the handling, with criticism surrounding the light steering response and a lack of support from the seats.