Mercedes Benz SLK-Class (incl. SLC) Oil Type
---
Select Your Model Year...
Choose the appropriate model year for the Mercedes Benz SLK-Class (incl. SLC) you are trying to find the oil type & capacity for from the list below.
Mercedes Benz SLK-Class (incl. SLC)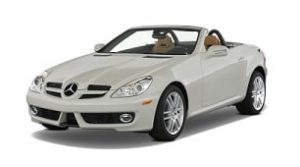 You can find 33 different trims for the Mercedes Benz SLK-Class (incl. SLC) and their corresponding recommended oil type.
The years available stretch from 1996 through to 2020 and to view the oil type and capacity you just click to expand.
The SLK-Class, more commonly called the SLK, first made its debut in 1996. It then remained on the market for over two decades until its discontinuation in 2020.
During its time on the market, three generations were released by the German manufacturer. The latest and final of these iterations made its debut in 2020.
There may have been some confusion amongst fans of the model due to its name change in 2016. Mercedes decided to rename it to the SLC-Class with the release of the second-generation facelift. This was to better conform with their more uniform naming convention.
As its name suggests, the roadster is a part of the C-Class family. It also represents both Mercedes' smallest and oldest roadster model.
Competition for the SLK/SLC has typically come from the likes of the BMW Z4, Jaguar F-Type, and even the Mazda MX-5, also known as the Miata in North America.
Trim options for the SLK typically consisted of just three levels. These were based on the engine size offered and also included the usual high-performance AMG package found with most Mercedes models.
Powertrains typically consisted of petrol engines ranging from 2.0 L inline-4s through to the 5.5 L V8 found in high-performance models like the SLK 55 AMG.
Transmissions ranged fairly significantly over the years. The roadster was fitted with nearly every gearbox size between 5-speed and 9-speed. There were so many that there was nearly both an automatic and manual version of each of these.
Mercedes announced that declining sales numbers - a result of increasing popularity of crossover SUVs - was the reason for the SLC being retired. The Final Edition package was offered in 2019 as an homage to the beloved roadster.