Renault Espace (incl. Grand) Oil Type
---
Select Your Model Year...
Choose the appropriate model year for the Renault Espace (incl. Grand) you are trying to find the oil type & capacity for from the list below.
Renault Espace (incl. Grand)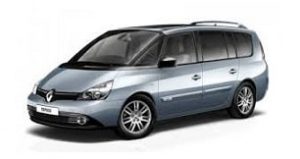 You can find 61 different trims for the Renault Espace (incl. Grand) and their corresponding recommended oil type.
The years available stretch from 1993 through to 2023 and to view the oil type and capacity you just click to expand.
First seen in 1984, the Espace was a 5 door large minivan built by French automaker Renault. Made by Mantra for Renault, the Espace is directly translated as 'Space' in French, for obvious reasons.
The first generations lasted 7 years and were the result of design work undertaken by the British designer Fergus Pollock. Pollock had worked for a number of companies, including Jaguar and Chrysler and is also responsible for such cars as the Jaguar XJS, the Jaguar XJ6, the Jaguar XK8 and the Jaguar XJ8.
Originally, the Espace was designed for Chrysler and put forward in the 1970s, but Chrysler passed, deeming it too much of a risk given its futuristic design. After the design was taken to Renault in 1978, production was authorized on the understanding the predominant material would be fiberglass to increase rigidity. Reflecting the out of the box design, customers were initially hesitant and so sales were slow. However, after a number of advertising campaigns and drivers raving about the benefits, sales really took off.
Racing against the Toyota Previa, Toyota Master Ace and the Mitsubishi Space Wagon on Top Gear, the V6 Espace won outright.
1991 saw a revised shape, with much more rounded corners to bring it more in line with other Renault designs. To celebrate the success of the vehicle, Renault created a Formula one version, this had a huge V10 engine and could reach 60 mph in under three seconds (the maximum speed this Espace was capable of was 194 mph).
By 2015, the Espace was now more of a crossover with a plethora of new technological advancements built in such as radar adaptive cruise control, voice control, lane departure warning, emergency braking, Bluetooth connectivity and active emergency braking.