Volkswagen Scirocco Oil Type
---
Select Your Model Year...
Choose the appropriate model year for the Volkswagen Scirocco you are trying to find the oil type & capacity for from the list below.
Volkswagen Scirocco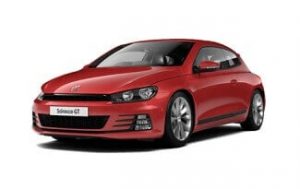 You can find 35 different trims for the Volkswagen Scirocco and their corresponding recommended oil type.
The years available stretch from 2008 through to 2018 and to view the oil type and capacity you just click to expand.
The VW Scirocco has had two separate lives as part of the VW range, the first running from 1974 to 1992, and the second from 2008 to 2017. The first lifetime brought us the first two generations of Scirocco, the first from 1974 to 1981, and the second from 1981 to 1992. Its second incarnation brought a third generation, facelifted in 2014, and spawned a number of sporty special editions, too.
Throughout its life, regardless of model year, the Scirocco was always built and marketed as a 3-door hatchback. To be more specific, it was a 3-door spot compact hatchback with FWD drivetrain named after the Mediterranean wind, which gave it a certain athletic, and powerful persona from day one.
It first arrived as a vehicle to replace the VW Karmann Ghia, a car that was starting to show its age by the 1970s. Design evolved from a rather boxy almost Delorean-esque design in the 1970s (though the Delorean came later) to a much more contemporary, rounded and aerodynamic shape for the third generation.
When it returned in 2008, the Scirocco was powered by a 1.4-liter gasoline engine, with an optional 2-liter for those who wanted more power and torque. A 2-liter diesel option was also available. The third generation brought with it special versions such as the Scirocco R (2009-2017), powered by a 261-horsepower 2.0L engine unit, and the Scirocco GTS (2015-2017) which shared a powertrain with the Mk7 VW Golf GTI.
Quite unusually for Volkswagen, the Scirocco was discontinued after 2017 with no replacement model put in place. It seems that VW couldn't find a good enough cause for a new 3-door coupe-style hatchback. By 2017, the VW Golf GTI was already well established globally as the sporty hatchback option in the VW range, and even the VW Polo has since been upgraded to offer similar features.
While rumors of a return for the Scirocco continue to abound, it seems for now at least it's consigned to the automotive history books.