Select Your Model Year...
Choose the appropriate model year for the Peugeot 307 you are trying to find the oil type & capacity for from the list below.
Peugeot 307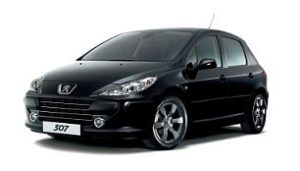 You can find 15 different trims for the Peugeot 307 and their corresponding recommended oil type.
The years available stretch from 2001 through to 2009 and to view the oil type and capacity you just click to expand.
The 307 first entered the market upon its release in France in 2001. Like most other Peugeot offerings there was only a single generation under this specific nameplate, until it was replaced by its successor, the 308, in 2007.
Although only offering a single generation, it did receive a facelift in 2005.
It was offered in a variety of body styles over the years. These consist of the more common 3- and 5-door hatchback, followed by the 2-door cabriolet, the 4-door sedan, and the 5-door station wagon.
The most common rivals for the model include the Renault Megane, Citroen C4, and Volkswagen Golf.
The 307 was in production for various times depending on the region it was made. The French version was the first to be discontinued in 2008. This was followed by the Argentinian version in 2011 and the Chinese model in 2014.
There was a huge slew of trim levels offered - about 11. These were the S, E, SE, LX, GLX, Urban, Rapier, Sport, XSi, GT, and Feline.
Peugeot offered three petrol and three diesel engines for the 307. Both of these choices were offered in the same engine sizes, which ran from a 1.4 L inline-4 through to a 2.0 L inline-4.
These engines were mated with a number of transmissions. These consist of a both a 5-speed and 6-speed manual, as well as a 4-speed and a 6-speed automatic transmission.
The model received high praise after its release, going as far as winning the 2002 European Car of the Year award. This kind of success was a clear inspiration for the French carmaker to continue the small family car with the 308.