Select Your Model Year...
Choose the appropriate model year for the Toyota Mirai you are trying to find the oil type & capacity for from the list below.
Toyota Mirai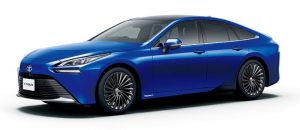 You can find 3 different trims for the Toyota Mirai and their corresponding recommended oil type.
The years available stretch from 2014 through to 2023 and to view the oil type and capacity you just click to expand.
The Toyota Mirai is named for the Japanese word meaning "future," and when one sees how it works and what it looks like, it's not hard to see how they came up with that name. Toyota has long placed itself at the forefront of alternative fuel technologies, in particular, championing hybrid cars from as early as the late 1990s. The Mirai is their effort to champion the use of hydrogen fuel in place of either gasoline or pure battery electric systems.
There have been two generations of the Toyota Mirai to date, the first running from 2014 to 2019, and the second launching from 2020 to the present day. Each has brought revolutionary new technology to the fore, but alas has been limited chiefly by the lack of fueling infrastructure that's available outside of the select markets where Mirai cars are sold.
In the US, nearly all Toyota Mirai cars are sold in California, where there is a working network of hydrogen fuel stations --- though still insufficient to support larger numbers of Mirai drivers. Toyota even offers a complimentary rental car service where people who have to go out of state in their car can freely rent an alternative that they'll be able to fuel when they cross state lines.
It's for these reasons that sales have remained low, but that remains a pity because the Mirai is a beautiful car, showing off large sedan exterior proportions with attractive body lines and strong features. The interior is very futuristic with a large infotainment display, slowing center stack with myriad controls, and a digital instrument display.
The EPA rated the first generation as having a single-tank range of about 312 miles in 2016, and that increased to 402 miles at the release of the second generation in 2020.