Select Your Model Year...
Choose the appropriate model year for the Toyota RAV4 you are trying to find the oil type & capacity for from the list below.
Toyota RAV4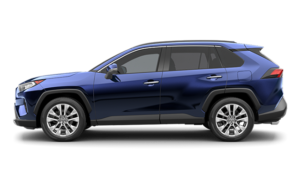 You can find 57 different trims for the Toyota RAV4 and their corresponding recommended oil type.
The years available stretch from 1996 through to 2023 and to view the oil type and capacity you just click to expand.
The Toyota RAV4 has come in several different incarnations over the years.
It has also been called the Vanguard, the Wildlander and the Suzuki Across, depending on what market you were in and in what year.
The RAV4 is currently available in true Toyota fashion in both a gasoline-only and hybrid version.
Its first iteration arrived back in 1994, and this first-generation model even included a plug-in EV model from 1997 to 2003, the RAV4 EV.
In the current selection, you can choose from either 2.0L or 2.5L engines.
These engines typically take 5W-30 or 0W-20 type oil - ideally synthetic - as recommended by Toyota in order to extend the life.
A benefit of synthetic oil is that it is more efficient and requires that you change the oil filter after twice as many miles.
The RAV4 has long been popular as the car that gives you the utility and comfort of an SUV but with a more compact size making it perfect for urban driving.
It also comes with the fuel economy of a more compact car, with the gasoline version managing 28mpg in the city and 35mpg on the highway (2021 model year).
If you need to go a bit "bigger" and have access to more off-road capability then maybe you should check out the Highlander from Toyota which is larger.
You can get it in North America as either the LE, XLE, XLE Premium, Adventure or Limited trim level, all of which offer a good range of features.
Despite a few minor transmission errors reported by some users, the RAV4 has a pretty stellar record on reliability.
The 2017 and 2018 model years were praised in particular for their sturdy construction.
Like many Toyota models, the RAV4 is built to last and has a driver community that tends to upgrade just to take advantage of new features rather than out of pure need.