Select Your Model Year...
Choose the appropriate model year for the Toyota Prius you are trying to find the oil type & capacity for from the list below.
Toyota Prius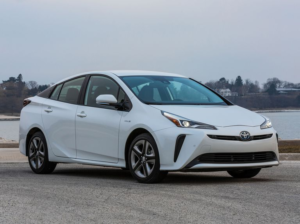 You can find 33 different trims for the Toyota Prius and their corresponding recommended oil type.
The years available stretch from 2001 through to 2023 and to view the oil type and capacity you just click to expand.
When you think of the term "hybrid car," the Toyota Prius is likely the very first car that comes to mind.
Since it was first released back in the late 1990s, the Prius has helped to define the hybrid category as a unique one.
Many weren't so sure about the somewhat odd looks of the Prius, but over time it has become the dependable and efficient steed that city dwellers really needed.
In the 2021 model year, the car gets up to 58mpg in the city and 53 on the highway, giving urban drivers a real "best-of-both-worlds" experience.
The fact is that the Prius was never built for performance.
Its acceleration, horsepower, torque and top speed all leave something to be desired, but that's not why people were interested in this car.
They needed something to offer the benefit of electricity but without any need for plug-in charging infrastructure either public or private.
Unlike an all-electric model, the Prius is incredibly affordable to purchase and run.
Even the top-end trim of the Prius is likely to be cheaper than the base model of an EV, and you still will never need to plug it in.
The Prius has seen fierce competition in the second decade of this Millenium as many manufacturers release hybrid models of their own, such as the Hyundai Ioniq.
Whatever you think of it, this remains a popular car in America and around the world.
The Prius along with other members of the Prius range, such as the Prius V, have enjoyed cumulative sales of up to 6.1 million units globally by January 2017, and they are still going strong.