Select Your Model Year...
Choose the appropriate model year for the Toyota Tacoma you are trying to find the oil type & capacity for from the list below.
Toyota Tacoma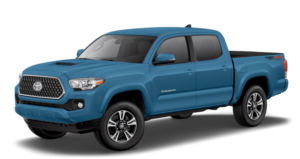 You can find 108 different trims for the Toyota Tacoma and their corresponding recommended oil type.
The years available stretch from 1996 through to 2023 and to view the oil type and capacity you just click to expand.
Introduced in 1995 to target the large market of pickup truck buyers in the USA after the discontinuation of the Hilux model in that region is the Toyota Tacoma.
Everywhere else in the world the Hilux continued on selling being updated and sold to this day with the same platform used under the 4Runner SUV.
Toyota introduced a new North American version that was different from the Hilux in order to tailor it for that huge market where pickup trucks are bought for domestic as well as commercial use.
This new Tacoma model put more emphasis on comfort features such as ride quality and technology inside the cab that made it more appealing as a day-to-day car.
Sales have remained steady even when the global recession hit around 2008 that hit large vehicles suck as pickup trucks sales hard.
In recent years the sales have rocketed thanks to the introduction of the most recent third-generation Tacoma in 2015 for the 2016 model year.
This new version saw massive styling changes on the bodywork all over the truck helping it compete against other modern pickups and appeal more to the ordinary family car buyer.
Inside the car is packed with comfort features you would expect to see in a normal daily driver such as an infotainment center and sound-blocking windows.
Under the hood is a range of fuel-efficient engines that when driven sensibly allow for an "mpg" rating of around 23 - not bad for a pickup truck.