Volkswagen T-Roc Oil Type
---
Select Your Model Year...
Choose the appropriate model year for the Volkswagen T-Roc you are trying to find the oil type & capacity for from the list below.
Volkswagen T-Roc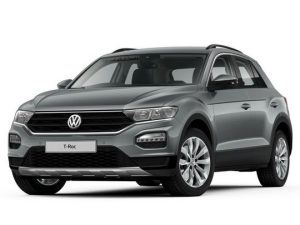 You can find 32 different trims for the Volkswagen T-Roc and their corresponding recommended oil type.
The years available stretch from 2017 through to 2023 and to view the oil type and capacity you just click to expand.
The Volkswagen T-Roc is an excellent Small SUV that outclasses its rivals in a number of ways. In fact, many argue that the T-roc is the best small SUV on the market.
It is built on the same platform as the massively popular (in Europe) Golf - a commonly used base for many other cars including the VW Jetta and the Audi A2.
Customers have a selection of engines to choose from when buying this car new. The most popular choice is actually the smallest, 1-liter 3-cylinder petrol engine which produces 109 horsepower.
An addition of a turbocharger helps to accelerate the T-Roc from 0-60 in just over 10 seconds, and there will be more than enough power to drive on the motorway. The power from this engine can only be matched by the Ford Puma. Users can also opt for the four-cylinder petrol or a 2-liter diesel.
Its interior doesn't fail to impress either. As the driver, you'll be greeted with just about all the customization options you need to give yourself the best driving position. You'll also be seated pretty high, allowing you to manage distance much more easily.
There's plenty of space for passengers and a good amount of luggage, and the dashboard will help to keep everyone at the right climate, with the best tracks on the playlist playing.
The biggest problem with the T-Roc is that it turned out to be a pretty unreliable car. In fact, around 20% of all 2018 models had to be recalled due to the electrics, as well as the brakes and air-conditioning. This is seriously disappointing, as, in all other areas, the T-Roc excels.
Thankfully, this problem has now been resolved. This leaves the car almost faultless, and it's a great choice for anyone who wants a stylish and spacious small SUV.
Most of the Volkswagen T-Roc variations require Titanium LL 5W30 oil, as recommended by the manufacturer. It's essential that you regularly check your oil before any long journey. Failing to do so could result in your engine overheating, which can have some serious long-term repercussions.