Chevrolet Silverado Oil Type
---
Select Your Model Year...
Choose the appropriate model year for the Chevrolet Silverado you are trying to find the oil type & capacity for from the list below.
Chevrolet Silverado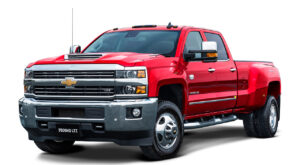 You can find 100 different trims for the Chevrolet Silverado and their corresponding recommended oil type.
The years available stretch from 2000 through to 2023 and to view the oil type and capacity you just click to expand.
This Silverado nameplate encompasses many different pickup trucks from the famous American auto-manufacturer.
The first examples of Silverado models were in 1975 when the name was used on the top trim level for the C/K pickup.
It wasn't until 1999 that the model based on that name would hit the roads with a more modern and rounded appearance than its predecessor.
Customers were able to choose a variety of layouts in terms of cabin and bed size based on their requirements.
Engines also varied in size from a 4.3 through to a 8.1 liter - all being offered in a V8 layout - mated to either a 4 speed automatic or 5-speed manual transmission.
A Heavy Duty trim was offered in the second year of the truck's production that offered features designed for commercial use such as areas for keeping folders and extra charging plugs.
With each redesign, the Silverado jumped in terms of styling, especially in 2014 when the truck gained a huge blended chrome front bumper and grille.
To illustrate the popularity of the truck you just have to look at the awards it continues to receive from motoring publications with the car averaging 3 new awards each year.
Sales continue to push into the higher territory after the big slump felt by big gas guzzlers during the global recession around 2008 hampered it slightly.
Americans flock to the truck and if it wasn't for the slightly more popular Ford F-150 this would be the number 1 selling pickup truck in the States.