Select Your Model Year...
Choose the appropriate model year for the Ford Fusion you are trying to find the oil type & capacity for from the list below.
Ford Fusion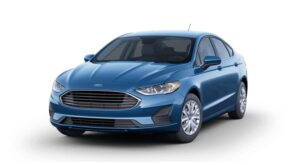 You can find 53 different trims for the Ford Fusion and their corresponding recommended oil type.
The years available stretch from 2005 through to 2020 and to view the oil type and capacity you just click to expand.
Introduced as a family car that could be sold all around the world, the Ford Fusion was developed by the company and re-badged under several other sub-brands.
The re-badged versions are sold with the same chassis and in some cases, the same body and are called under these names:
Lincoln MKZ (same chassis - different body - slightly more luxurious)
Mercury Milan (same chassis - different body - smooth appearance)
Ford Mondeo (exactly the same though is sold in European markets)
The first models rolled off the production line in 2005 and replaced the Taurus and Mondeo models around the world which struggled in non-European markets.
Engines were mostly restricted to a few options until the second generation in 2012 when Ford added many environmentally friendly options such as a plug-in hybrid.
To its merit, the car has received many awards over its short life with many motoring publications describing it as a "car of the year" or similar.
Sales of the Ford Fusion peaked in 2015 several years after its second-generation model was released and sales may pick up again if the third evolution carries on the trend.
Hanging onto sales in a world where many drivers are opting for crossover cars (such as the Nissan Qashqai and Mazda CX-5) is impressive and a testament to the popularity of this car.
For the 2020 model year, the family car was updated with new technological features to help it compete in its category.
New features included Apple CarPlay and Android Auto Smartphone to make it easy for the occupants to sync their devices with the automobile.