Select Your Model Year...
Choose the appropriate model year for the Honda CR-Z you are trying to find the oil type & capacity for from the list below.
Honda CR-Z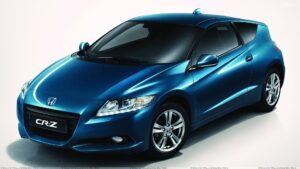 You can find 2 different trims for the Honda CR-Z and their corresponding recommended oil type.
The years available stretch from 2010 through to 2016 and to view the oil type and capacity you just click to expand.
The Honda CR-Z is classed as a hybrid compact sports car sat in a class with very few competitors.
Many hybrid cars are either plain and boring like the Toyota Prius or sporty and larger like the BMW i8 or the Lexus LC.
The CR-Z fills a niche where it can act as a sporty car for the weekend with sensible daily driving available during the week.
Customers have found though that even though it's classed as a sports car it hardly has the performance to justify the name.
Production ran from 2010 through to 2016 and was discontinued due to low sales from the actual offering being a far cry from what people expected.
One major issue was the use of the naming of the car invoking memories of the exciting sporty CRX offshoot of the Civic back in the 1980s.
This car failed to live up to those standards and instead served as a 2 seater hybrid car ideal for those who don't need the rear seating area and instead benefit from the reduced weight.
A major selling point of the car was the low fuel consumption with almost 60 miles to the gallon achievable when driven sensibly.