Select Your Model Year...
Choose the appropriate model year for the Hyundai Ioniq you are trying to find the oil type & capacity for from the list below.
Hyundai Ioniq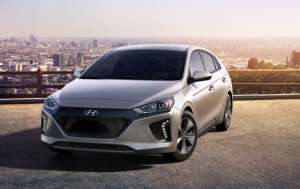 You can find 4 different trims for the Hyundai Ioniq and their corresponding recommended oil type.
The years available stretch from 2016 through to 2023 and to view the oil type and capacity you just click to expand.
This diverse offering from Korean giant Hyundai is a perfect bridge to an increasingly electrifying automotive world.
The Ioniq is Hyundai's hybrid, PHEV and all-electric option, first created for the 2017 model year and still going.
The best-selling globally of the three is the conventional hybrid vehicle, which had sold 74,000 units by 2018.
Hybrid vehicles like this, the Toyota Prius and the Honda CR-V continue to attract buyers thanks to their versatile powering methods.
The top-end range of the all-electric variant is still only 193 miles on a single charge. It's not the lowest out there, and still very practical for those living in urban settings.
It's not as practical for the long-distance commuters, however, and still can't match the prowess of brands like Tesla.
Where the Ioniq makes up for that, however, is in price point. The electric model starts at $33,045, which means it is getting close to breaking the elusive $30,000 barrier for all-electric cars.
The hybrid, on the other hand, is a very pleasing $23,200 for the 2020 model year, and only an estimated $24,500 in the 2021 model year.
The best-selling hybrid version comes powered by a pleasing 1.6L 4-cylinder engine coupled with a 32kW electric motor. The sleek design gives it a drag coefficient of just 0.24, which actually helps it compete with the likes of Tesla in that department.
Though it hasn't sold as many units, the PHEV version comes with some pleasing additions, including a much more powerful battery and supposedly 31 miles of electric-only range, which is very handy for the urbanites looking to save a lot of gas on short journeys.