Select Your Model Year...
Choose the appropriate model year for the Mazda Mazda3 you are trying to find the oil type & capacity for from the list below.
Mazda Mazda3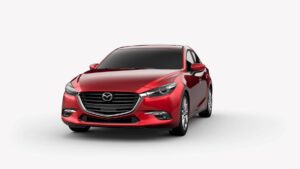 You can find 38 different trims for the Mazda Mazda3 and their corresponding recommended oil type.
The years available stretch from 2003 through to 2023 and to view the oil type and capacity you just click to expand.
In Japan, they call this one the Axela. The Mazda3 is a compact 4-door sedan or 5-door hatchback with a long production history going back to 2003.
Its latest version, the fourth generation, was unveiled back in 2019 at the Los Angeles Auto Show.
By January 2019, it had become Mazda's fastest-selling vehicle, accumulating sales of more than 6 million units strong.
Every generation has been very generous with engine and transmission options.
Back in 2003, you could choose from a 1.4, 1.5, 1.6, 2.0 or 2.3L gasoline engine, and even a 1.6L diesel powertrain.
The current generation has a similar range but now goes up to 2.5L in the gasoline models and 1.8L in the diesel models. Earlier generations offer more powerful diesel options, as well.
The 2019 model also comes with a mild-hybrid (MHEV) option, which is known as the e-Skyactiv X drivetrain, accompanied by a 24v lithium-ion battery.
What makes the Mazda3 popular is its executive look. For the busy professional wanting to make the right impression, the Mazda3 is an affordable yet stylish choice, projecting a sense of success and professionalism, while also being suitable as the family car.
It's the ideal mixture of different car breeds.
For those needing a slightly larger car but love the appearance of this Mazda range, they should check out the next model up, the 5.
It's more of an MPV and can seat up to 7 passengers including the driver (until the second generation when it was dropped down to 6).
There have been one or two issues reported over the ears with faulty warning lights, and some rattling and squeaking from the suspension and brakes respectively.
It still received a respectable 3/5 rating from J. D. Power for reliability, and 4.0 out of 5.0 from RepairPal.