Select Your Model Year...
Choose the appropriate model year for the Peugeot 407 you are trying to find the oil type & capacity for from the list below.
Peugeot 407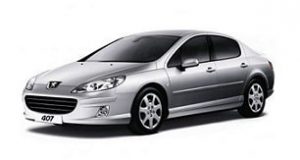 You can find 18 different trims for the Peugeot 407 and their corresponding recommended oil type.
The years available stretch from 2004 through to 2011 and to view the oil type and capacity you just click to expand.
A large family car, the 407 was created by the French car manufacturer Peugeot.
Available as a saloon, coupe or estate, both fuel options were available, petrol and diesel.
Hotly anticipated, it replaced the wildly popular 406 with a number of pre-review articles deeming it 'radical' in its design.
Following a launch that cost Peugeot 1.12 billion euros, the 407 was officially released in Paris in 2003.
Launching 4 months after the saloon, the estate proved fairly popular, the total sales for the 407 reaching 259,000 by 2005.
Offering a high-quality build, the 407 was hailed quintessentially a French car and offered ride refinement typical of a more upmarket vehicle. Despite its reputation for quality, there was one issue that predominantly afflicted the 407, the EGR valve.
Typical issues caused by faulty valves lead to a loss in power, poor idling or a hesitant engine. Although a common issue, this seemed to be the only real problem plaguing the 407s, an otherwise well-built and reliable car. Alternatives to the 407 at the time were the popular Ford Mondeo, Vauxhall (or Opel) Vectra and the Insignia.
Peugeot pulled the coupe body style from production in December 2011, with most petrol variants removed from the UK. EURO NCAP scores awarded it 5 stars for adult safety, 4 for children and a 2 out of a possible 4 for pedestrians.
A popular advertising campaign aired in multiple countries, it saw the 407 gliding smoothly through the city and past all other vehicles, except the other cars on the road were all toy constructions. The advert had over 20 giant models built specifically for the set, with wind-up toys being hand-cranked to show a juxtaposition between 'usual' cars and this Peugeot.
The 407s successor, perhaps curiously, was not called the 408 as one might expect, but the '508.' Reviewers attributed this to the new vehicles' vastly increased length and similarity to the 607, and so a combination was created.