Select Your Model Year...
Choose the appropriate model year for the Toyota Avensis you are trying to find the oil type & capacity for from the list below.
Toyota Avensis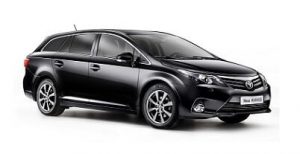 You can find 45 different trims for the Toyota Avensis and their corresponding recommended oil type.
The years available stretch from 1997 through to 2018 and to view the oil type and capacity you just click to expand.
To some, the Toyota Avensis is an increasingly distant memory, having been discontinued in 2018 after a 21-year production run starting back in October 1997. The Avensis is a midsize family sedan that was manufactured in Toyota's UK plant. It was geared more toward the Japanese and European markets, however, with its "Avensis" name being derived from the French word "avancer," which translates to "advance" or "move forward."
The Avensis' predecessors included the Toyota Corona (aka Carina E) and the Toyota Vista in Japan. The whole idea was to modernize these cars and make them more appealing in an increasingly competitive space. Eventually, they were replaced with the eighth generation of the Toyota Camry line (model XV70), which tied together the global executive sedan brand more cleanly.
The Toyota Avensis sedan car shouldn't be confused with the Toyota Avensis Verso, which was a shorter-lived minivan design that was made exclusively for the Japanese market from 1995 to 2010. Despite the name being shared, the minivan model was built on an entirely different platform.
In all, the Avensis was produced across three generations, the first from 1997 to 2003, the second from 2003 to 2009, and the last from 2009 to its discontinuation in 2018. The third generation actually received two facelifts, the first in 2012, and the second in 2015, with smaller refreshes and updates also happening in between.
The third-generation models were produced as either a 4-door sedan or a 5-door wagon model. It's powered by a series of 4-cylinder engines both gasoline and diesel, with the most powerful being the 2.2L D-4D diesel engine that could get up to 174-hp. That particular powertrain was only available from 2008 to 2015, however.
The trunk holds a respectable 18 cubic feet of cargo space, which is quite far above the average for many sedans (13-15 cubic feet), making it a practical choice for family use.