Select Your Model Year...
Choose the appropriate model year for the Toyota iQ you are trying to find the oil type & capacity for from the list below.
Toyota iQ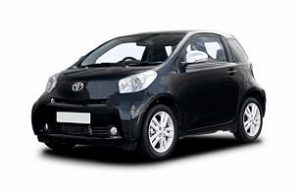 You can find 7 different trims for the Toyota iQ and their corresponding recommended oil type.
The years available stretch from 2008 through to 2015 and to view the oil type and capacity you just click to expand.
Fundamentally a small city car, the iQ is a front-wheel drive vehicle created and manufactured by the Japanese car company Toyota.
Sold under a different name in some countries, the first examples of the iQ were manufactured at the Aichi Takaoka Plant, despite having been designed by the Toyota European Design and Development team.
Allowing for seating for up to four passengers, the iQ has just three doors and was first unveiled at the 2007 Frankfurt Auto Show one year before saleable models rolled off the production line.
The moniker 'iQ' literally translates to 'intelligence quotient' with later versions claiming that the 'i and q' also stood for 'individuality,' 'innovation,' and 'cubic form.
Lasting just one full generation, Toyota discontinued the iQ in 2016, perhaps due to the number of similar vehicles offered by the likes of Smart (the Fortwo) and Aston Martins Cygnet.
In fact, these two cars were so close that they were just rebadged versions of the iQ.
When designing the iQ, Toyota kept several important requirements in mind, some of which were maneuverability, interior space, fuel efficiency and general compactness.
Internal configuration was dictated by the size of the vehicle, for example, the transmission housing was situated in front of (rather than behind) the engine; and an area was created behind the dashboard by raising the steering rack up high.
The end of its run was brought on by lowering sales and a price point that was £10,000 apx. above its larger sister vehicle, the Aygo!
Despite trying to introduce an electric version in Japan, these vehicles only had a range of 80 km on one charge and so proved less than practical.
Only 100 models were made. Autoexpeess.co.uk suggests the iQ alternatives as the Fiat 500 1.2 lounge, Smart ForTwo Pure, SEAT Ibiza SC 1.4-liter or even the Smart Forfour.